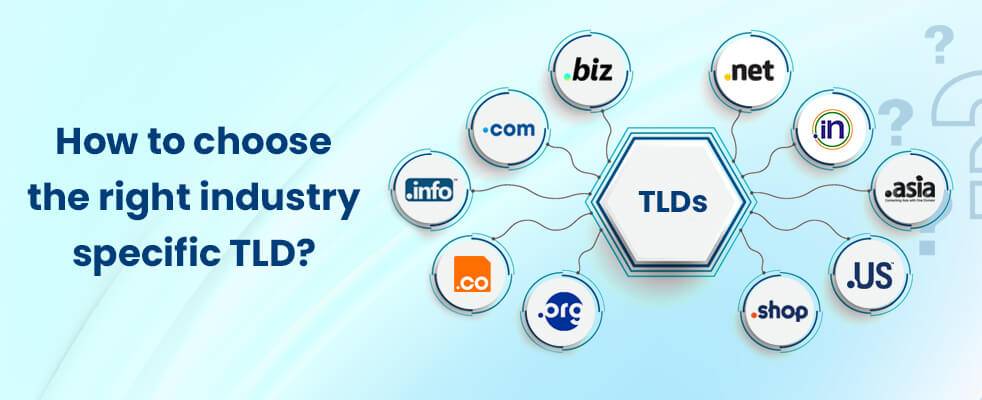 How to choose the right industry-specific TLD?
With an innumerable number of businesses and startups evolving around the globe, it has become mandatory to stand out from the crowd. Having a niche-based company allows for building a solid brand.<!–-noteaser-–>It also makes the marketing process easy and helps reach a wider audience. The invention of domain names was to ease the process of remembering IP addresses. TLDs being the end of a URL, play a vital role in website identification. Since .com is very popular, it is more preferred than other domain extensions. But in case, if the domain you wanted is unavailable with a .COM, opt for a different TLD using the same name. This article will help you get a broader vision of the world of domains and help you select the appropriate TLD for your niche-based industry.
You may consider domain extensions beyond .COM
.COM is the most popular domain of all time. It is the first domain extension and is widely used even today since people prefer it over all others. It is because most websites have it, which makes it a trusted domain. But this trend is changing slowly due to the introduction of new TLDs. In simple terms, there are various domain extensions to choose from, other than .COM domain. With thousands of TLDs available in the industry, one does not have to rely on a single option for building a website.
Like .COM, there are other generic TLDs to use for all types of websites irrespective of their industry. A few of these TLDs include .net, .org, .co, .biz, and .info. Let's understand what these TLDs signify. .NET means Network, .ORG stands for Organization, .CO for Commercial,.BIZ for Business, and .INFO stands for Information. These are commonly used TLDs that can be used alternately in the place of the most popular .COM domain.
One can select from ccTLDs and IDNccTLDs for the website as another alternative. One should choose a domain on the basis of the country and language of your target customers. These ways help to reach the right audience residing within the location with almost little or no effort.
However, certain ccTLDs do not require permissions, and anyone can use them. Such ccTLDs can create unique domains such as monetize.it, psycholo.gy, and last.fm.
Recommendations based on Industry
Some of the niche-specific domains include .baby, .charity, .gifts, .jewelry, .travel, .store. A few recommendations for some common industrial domains are as follows:
Final Thoughts
Unlike old times, there are plenty of options in the top-level domain nowadays. And one can opt for any TLD that suits their brand as the SEO of any website depends on how well the ranking is maintained.
Coming back to the question. How to choose the right TLD? There are truckloads of options to select from gTLDs, ccTLDs, and IDN ccTLDs. Choose something that goes hand-in-hand with your niche. If you don't get your desired domain, there's always an alternative for creating an online presence. Just keep in mind the purpose of creating your website, due to which you need a domain. Select your TLD based on personal or professional use. A final tip would be to let out your creativity and go for a unique domain name!