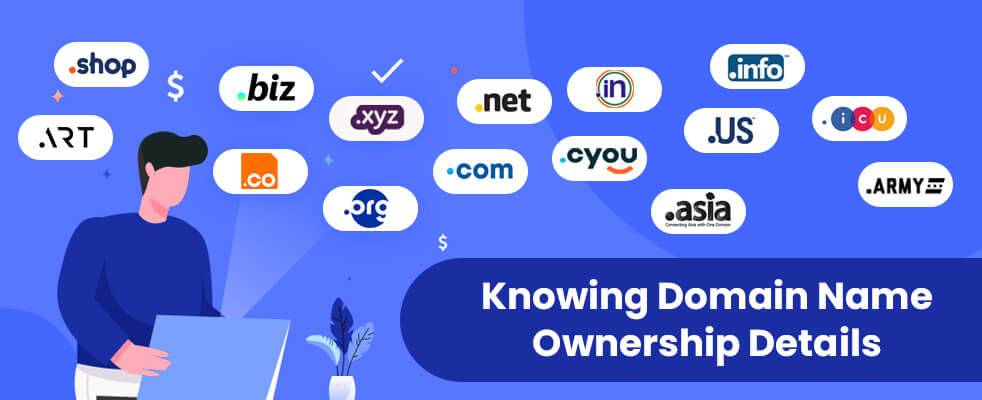 Knowing Domain Name Ownership Details
A domain name is an online address through which one can access a website. They are used in place of IP addresses to help users ease the process of remembering a complicated string of numbers. For example, xyz.com may have an IP Address of 194.128.1.2. So, as you can see, remembering the foremost is easier as compared to the latter.
Before we dive into the main topic, let's understand a few fundamentals. It all starts from the database of all domain names, i.e Registry. From there, the middleman of domains comes into the picture i.e Registrar. These are the ones who manage the reservation of internet domain names via resellers or directly deal with the end customers. The end clients who register these domain names are known as registrants. A domain name reservation can be done for a maximum period of up to 10 years.
Why find the domain name owner?
Every unique IP Address is associated with a different domain name. Knowing the owner of a particular domain name can have multiple reasons. Perhaps you may want to purchase a name that is already owned by someone else. In such a case, the immediate next thought would be to find out details about the owner in order to see if it is available for purchase. Once the details of the domain owner are found, it is possible to try contacting them to know if they are ready to sell it to you at a negotiated price. Another scenario would be, maybe you want to know the details for understanding more about the company for your personal or professional purpose. If the domain owner has set its privacy as an add-on, their information will be kept private, and users will not be able to find their details.
Key points to consider for obtaining the end result
Use social media
Search your desired domain on any social media platform. With over millions of brands having a social media presence, it can act as a powerful option for getting a clue about the company details. To name some, these online platforms include LinkedIn, Instagram, Facebook, and Twitter. It is also possible to find the URL of the company profile on its social media.
Check the website
It is obvious to find details about the company on its official website. However, there are very few chances to get the domain owner's data on it. For privacy concerns, this information might be kept hidden and inaccessible to ordinary internet visitors. A few reasons may include providing protection for the domain from spam and identity theft.
Check WHOIS Directory
Type a domain in the search bar of

WHOIS Directory

to get details about the company such as the owner's contact details and mailing address. Dates of website update, registration, and expiration are also given. Details of name servers and similar domains are also included. Site status of whether active or inactive as well server type is also mentioned. Further, you may also find the registrar data which may be beneficial for you in purchasing your desired domain. A few details may show the comment as 'REDACTED FOR PRIVACY', which means those details are kept hidden by the website owner due to privacy concerns. However, it is definite that the major information can be easily found on the whois website.
Domain Broker Services
There are certain registrars that provide domain broker services that network with owners by coordinating and negotiating domain prices with them. These domain brokers are agents who work with registrars in order to set up deals. The need for a broker occurs if the private information of a domain name is protected by third-party services such as

WhoisGuard

and the whois directory fails to track the details. In such a case, there are chances that no proper information will be publicly disclosed on the websites or on social media as well. Note that these domain broker services require charges to be paid. Users can leave the job to be done by the registrars, from searching the details to getting the domain at a negotiated price.

Steps to find the Domain Owner's Name using Whois Directory

Follow these simple steps and find a domain owner's name
To start with, visit

ICANN

in the browser
In the search box, type the domain name that you want to search.
Click on the 'Lookup' button to begin the search process
Get access to the details like domain registration date, registry, owner's name and their email address regarding the searched domain
Owner found? Let's jump to the next step
Now that you have found the domain owner details, what do you do next? Consider approaching the concerned person by keeping your business reputation in mind. If so, you have a well-established company and the domain owner has not made any website using it. Then, you are lucky enough and there are chances that you may get to own your desired domain name. However, if your case is not very critical and you are finding it difficult to negotiate the domain at the price of your budget. Then, need not worry! There are thousands of other domains available on the internet. Choose what's best for you and you will eventually be successful in building your brand.
On a final note!
There are several services that allow users to find domain ownership details, without charging any fees. However, WHOIS lookup is one such source that provides appropriate data of domains registered across the globe.