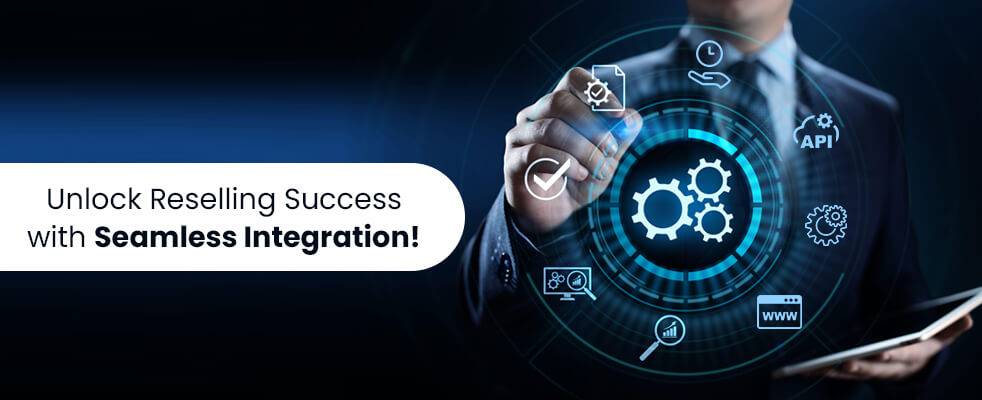 Seamless Integration: The Key to Reselling Success
Are you tired of spending hours manually transferring data between different sales channels and platforms? Do you want to increase your reselling profits without sacrificing valuable time and resources? Look no further than ConnnectReseller's seamless integration. <!–-noteaser-–>
As a domain reseller, having the right tools and resources is crucial for success in a competitive market. Streamlining your operations with automated systems can boost efficiency, reduce errors, and maximize your bottom line. Let's explore the integration options and how they can take your business to the next level!

1) API Integration: Solution for Advanced Reselling
ConnectReseller provides a robust API (Application Programming Interface) that allows you to integrate its services directly into your existing systems. It develops custom solutions tailored to your unique business requirements. With API integration, you can automate domain registrations, renewals, transfers, DNS tailoring, and much more. This flexibility empowers you to create a fully customized domain reselling experience for your customers.

2) Registrar Modules: Simplify Domain Management
ConnectReseller offers registrar modules for popular hosting automation softwares. These modules manage domains directly from your control panel, removing the need for multiple logins and simplifying domain management. With domain registrar modules, handle domain pricing, registrations, renewals, DNS management, and other essential tasks, all from a single interface.

3) WHMCS Integration: Effortless Management and Automation
To streamline and automate the management of your reselling business, WHMCS Integration provides an all-in-one solution. It covers every aspect of your domain reselling.

4) Bulk Operations: Save Time and Effort
We understand the importance of efficiency in domain reselling. That's why we provide bulk functionality for domain registration, renewal, domain transfer, DNS and contact update, and more. Bulk operations are a powerful tool that saves time and effort when managing your domain reseller program.
Additionally, bulk operations can help you keep your domains and reseller accounts organized and streamlined. It also maximizes your profits by allowing you to make global changes to your pricing options. By utilizing bulk operations, you can manage your domain portfolio effectively and focus on growing your online presence.
5) Name Suggestion Tool: Find the Perfect Domain
Name Suggestion Tool helps you find the perfect domain name for your customers. It generates hundreds of creative and relevant suggestions based on keywords or specific criteria for the website. Assist your customers in finding and registering domain names that align with their business or brand, enhancing their overall experience.
Conclusion
Integration is the key to unsealing the full potential of your domain reselling business. ConnectReseller being an ICANN accredited domain registrar, offers integration options that help you to deliver a superior experience, automate processes, and distribute top-notch services.
By leveraging these integration options, you can supercharge your domain reselling business, increase efficiency, and stay ahead of the competition. Explore the integration options and take your domain name reselling endeavors to new heights.
Remember, integration is about unlocking opportunities for growth and providing a seamless experience to your valued customers. And here are all the tools you need to succeed in the dynamic domain reselling industry.