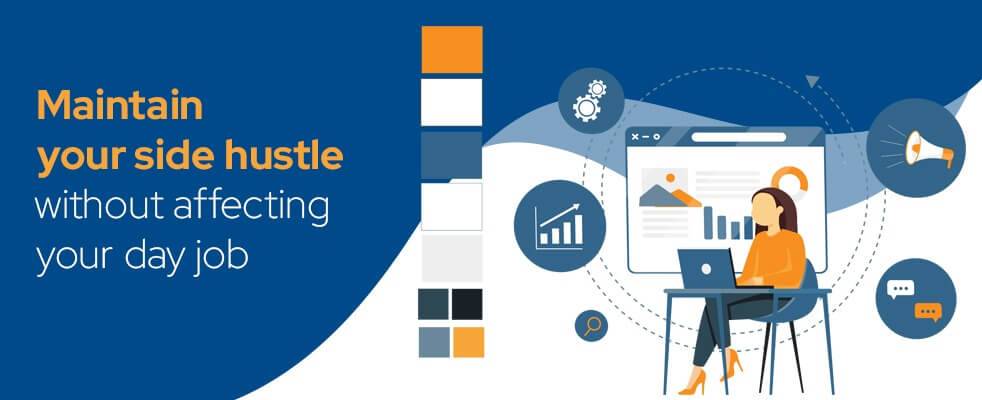 Maintain your side hustle without affecting your day job
Having a side hustle is going to be necessary for the future. Due to the increase in inflation, it would be a smart step to have a side hustle of our own. A lot of willpower is required to spend time in a side hustle after working in a full-time job. But you have to make sure about one thing! The extra work that you do in order to earn some extra money should not lead to loss of your mental as well as physical health. People work hard in order to earn money and then spend the money to gain their health back later. If you wish to choose a side hustle, choose something that is easy and does not consume much time. There are two reasons for starting a side business. Either you want to earn some extra money or want to pursue your passion. If you want to pursue your passion, it is mandatory that you are really good at it, i.e valuable to your end customers. It could be becoming a part-time teacher, affiliate marketing, starting a youtube channel, or reselling.
Make money while you're asleep!
We are living in the world of the internet. We are living in an era where it has become easy to earn money while sleeping. Yes! You read that right. You just have to set up your business online! And leave the rest to your customers. There are many options available for a side hustle. We will be covering reselling domains in this article. Reselling has become very popular nowadays. But finding the right products for reselling is a challenging task. As the number of businesses is increasing daily and almost everyone is on the internet, it has become mandatory for a business to have its own website. Reselling domains is nothing but buying domains from a registrar at a low price, then setting up a margin for the same, and selling it to the end customers. For this particular job, it is mandatory that you understand the facts about domain name and buy the correct ones. One drawback is that if you buy the wrong domains or the not-so-famous ones, you end up at a loss. It's a profitable business if you know the right tactics. 'Learn the game well before you land on the ground.' Since you will have to invest a lot of money in buying domains in bulk, there are two options for choosing a platform to sell your products. Either you can list and sell them on your own website or in an auction from websites such as Sedo, Flippa, and eBay. By doing an auction, you can bid on a fair price and set it for sale. Setting up your own website helps you keep a record of your product details. You can list the domain names, their pricing, cart option, and an online payment method. Before you get into the domain reselling business, it is important that you know their types. Here are a few details for the same.
Type of Domains
Top-Level Domains (TLDs)

TLDs assigned for specific countries are known as ccTLD. Having a ccTLD gives an identity to the business serving location. For eg. xyz.ca, it means the company serves only Canada or the website covers information only for the Canada location. Examples include .au-Australia, .be-Belgium, .eg- Egypt.

Country Code Top-Level Domain (ccTLD)

The part that comes after a domain name is called Top-level-domain (TLD). For example, in www.google.com, .com is the TLD and google is the domain name. Other such examples of TLDs include .org, .biz. .co, .net, .blog, .io and many more.

Generic Top-Level Domain (gTLD)

All the generic TLDs come under gTLD. Examples include .com, .net. Any common name could also be used, such as .tech, .space, .shop.

Second-Level Domain (SLD)

The term which precedes a TLD is called SLD. For example, if www.xyz.com is the website name, then xyz is the SLD.

Third-Level Domain

The term that precedes TLD and SLD is called Third-Level Domain. I.e www.

Premium Domain

Domains that are popular and have the most relevant name for businesses or topics are premium domains.

Stand out from the crowd

There is a quote by Mark Cuban – "Make your product easier to buy than your competition, or you will find your customers buying from them, not you". Resellers who have predicted the most demanding domain names of the future and have bought them in bulk would lead the buyer with no option but to buy from a source that is available to them.

In order to be ahead in the competition, it is important to be unique. Even though there are many TLDs, the key is in buying the right products. Here is a suggestion to stand out from the crowd and succeed in the domain reselling business.

Shine on with .CO domain

.CO is a ccTLD assigned to Columbia and administered by .CO Internet S.A.S. It is an open TLD. Out of all the domains available, .com domain is the most popular one. Since almost all .com domains have been sold, .CO domain is standing in the second position. From the SEO perspective, .co has the same popularity as .com, hence, could be used as an alternative to .com. One important point to be noted is that only accredited registrars can sell .co domain names directly; other registrars selling .co domain names act as resellers. For example, if a company name is Xyz, and xyz.co is the domain name that is most relevant for its business. If xyz.co is not available, the company will have to go for some other name that contains Xyz such as famousxyz.co or thexyzhub.co. But if the company wants something that is generic and has more chances of getting customers, it will give importance to xyz.co. Being a registrar if you have that domain, both you and the company get into a win-win situation. Based on your set margin you get your profit and the company gets its domain name. That's how easy domain reselling is!

To get started, you might search various portals for information and ideas. Start your career as a domain reseller with ConnectReseller and take your business to a whole new level. Do check our website to see updates on prices. Remember! The key is better the early, better the best.