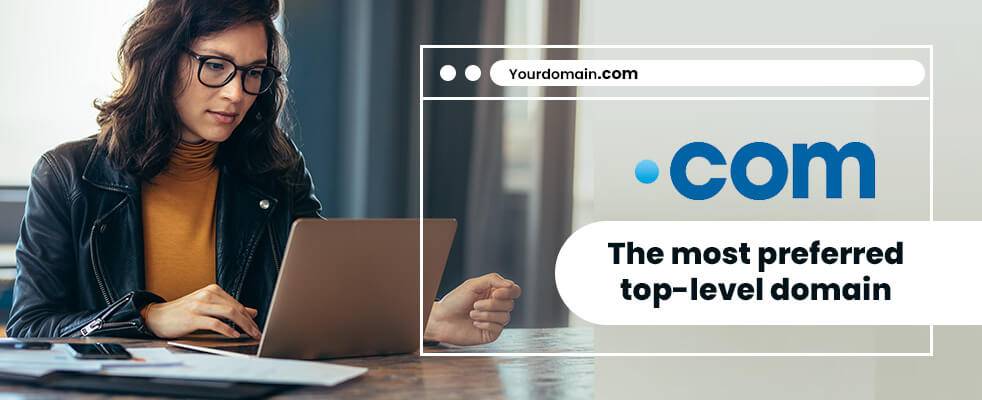 .COM: The most preferred top-level domain
An online presence is a must to become successful in any business. With millions of websites on the internet, selecting the best tools and making good choices for building a good reputation web presence is a must. With .COM being the oldest domain of all, it is still in demand because of its high value in the market, popularity, and ease of remembrance. If a business contains a .COM domain as an extension, the users get assurance about the originality of the website. Give a thought about it! Almost every popular website is a .COM domain, and why is it so? There are thousands of other domain extensions including .NET, .ORG, .INFO, and so on, but why is it .COM the most popular? Have you ever wondered? Keep reading! Because we'll be discussing some interesting facts and myths about this universal domain in this blog.
Facts and Myths
Before we head into the popularity of .com, let us understand what this extension means and who is it for? The term com signifies commercial and is therefore intended for usage by commercial organizations. However, anybody can own this domain irrespective of the type of their organization. Did you know? On March 15, 1985, the world's first .COM domain named Symbolics.com was registered. Another interesting fact about .com is that many countries have a second-level domain with their ccTLD. A few examples include, Australia (com.au), China (com.cn), Greece (com.gr), Mexico (com.mx) and Nepal (.com.np). It is a myth that not having a .com will impact the SEO of a website. People have a misconception that owning a domain other than .com can harm the search engine ranking. The role of a domain name in a website is less compared to content creation and other SEO tactics. Now that we know having a .COM alone will not help excel in building the reputation of a website let's explore the different alternatives for the same.
Alternatives for .com
What if your planned domain name with the .COM is already registered? Do you have to quit your entire website plan? No! Not at all! Just be a little more creative and choose from thousands of other domains. There are various gTLDs, ccTLDs, and IDN ccTLDs to select. gTLDs such as .io, .ly, .biz, .ninja,.app; ccTLDs such as .in, .us, .ca, and IDN ccTLDs such as .भारत can be used. Various creators can use different, e.g., TLDs for tech professionals and artists may differ. Few suggestions for tech professionals include .engineer and .code. Although these extensions may not sound as popular as .COM in terms of the search engine, but have the same value. Hence, all you need to do is build your brand by publishing SEO-friendly content regularly.
Final Note
To conclude, .COM domains are preferable because of their trustworthiness and memorability compared to other domain extensions. But these advantages alone are not factors to neglect other TLDs. Many other different alternatives hold similar value as the .COM domain. Utilization of the mighty space of the internet for building a brand depends on the website owner.